Posted on
By Betsy van Erp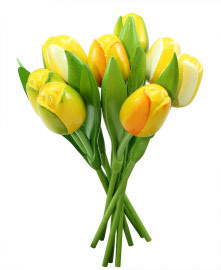 With Christmas at the door, it is always the question: what Christmas decorations you use? The shops are full of standard Christmas decorations, but you want this year is really something else. A Christmas atmosphere you create with our wooden tulips. Though the tulip originally not from the Netherlands, our country is known for these bulbs. Netherlands is one of the major exporting countries. You say Holland, you automatically say tulip. The wooden tulips we see as decoration often living in commercial buildings and even under the roof or in the yard. The interior of the device looks similar much more cheerful. Use wooden tulips as well as Christmas decorations, that's a Dutch Christmas.
Atmospheric Christmas, but also the rest of the year
The most popular colors of Christmas are green and red. These can also be found in our original wooden tulips. Obviously, they are available in more colors. Beautifully painted and always beautiful color. Combine the wooden tulips with traditional Christmas decorations, Christmas figures or fake snow. Are you in possession of a nativity scene? Again, you can be creative with it. Transform it into a real Dutch nativity scene. It may seem strange to put these flowers in winter, but nothing is less true. Today, the tulip bulbs come earlier and earlier in the year the ground. Moreover, you are one of American origin Christmas a Dutch Christmas, all in style.
Year round nature house
We all love nature: it gives us a good feeling. Think of the early spring when the birds are singing and the first tulips their heads above the soil. The Dutch Wooden Shoe Shop has a wide selection of wooden tulips for Christmas or just because it can. Both on foot, in a vase, as a bunch or loose. The loose tulips are available in lengths of 20 and 34 centimeters. In a vase or pot is not only beautiful on your dresser or table, but is also an original Dutch gift for someone else. Surprise your foreign friends or business associates with.
Online ordering wooden tulips
For Christmas, to celebrate the coming spring or to decorate your home attractive. Get started today by ordering sturdy wooden tulips. The Dutch Wooden Shoe Shop offers this in many different colors. Create a happy picture with different colors or choose a color that perfectly matches your décor. A single tulip on the windowsill is always in sight. Order the finest wooden tulips online at Dutch Wooden Shoe Shop.