De Hollandse Klompenwinkel
My name is Betsy van Erp.
Together with my husband Jan we are running The Dutch Clog Shop
After 12.5 years as a nurse having worked in a hospital, I'm going to take care of our two sons. Now they have grown they have less need my care and I went looking for a new challenge.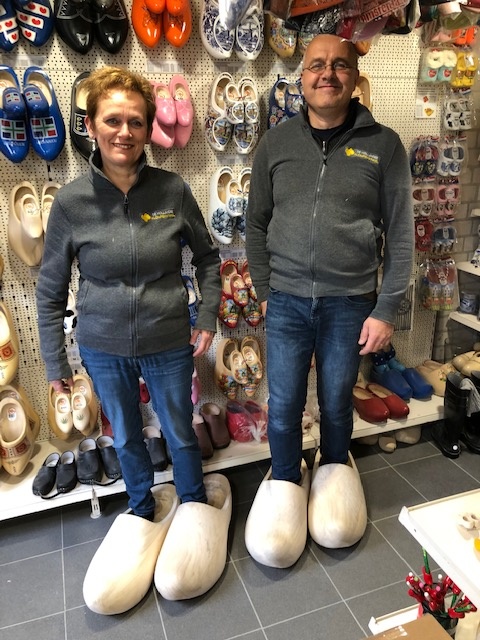 After only running the website for 4 years, Jan quit his job as a project manager at an installation company. Due to the increasing crowds, it was not possible for me to do everything alone. We consider the service to our customers an important point and because of this we were working 7 days a week from 7:00 am to 10:00 pm to get all orders out the door. Now that Jan is home, we can divide the tasks more so that there is time for other things.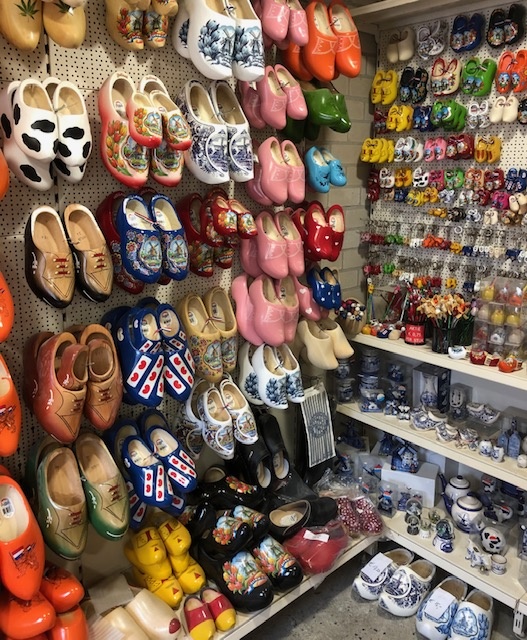 We started a clog store because this primal Dutch product that is often undervalued. We try here in to breathe new life by showing that wooden shoes are not drowsy but you can make wooden clogs everything and can give a personal touch.
Orders wooden shoes
The nice thing about selling wooden clogs is that our customers order from all over the world. Often you get personal contact with the customers, and behind every order is a story. We get more and more positive reactions when the orders received which is a great incentive for us to continue on this path.
Because of our small size, we work very customizable and you can go with everything at us. We try to realize your wishes. The customer is always our king.
We find that a quick delivery is very important. After all, nobody wants to wait a few weeks for his ordered products. When we have something not in stock we are trying to get as soon as possible to proceed rapidly to extradition. We take when something is not right stock is directly contact you so that you know when you can receive your order.
We have a large stock of white wooden clogs in our warehouse. This we process itself into a beautiful finished product. This allows us to quickly to customer needs anticipate that delivery times are very short. Larger parties clogs for us no problem.
If we do not have something in stock, we are trying to deliver this together with our supplier as soon as possible. We often go after a 1st order of new products or take stock in our warehouse.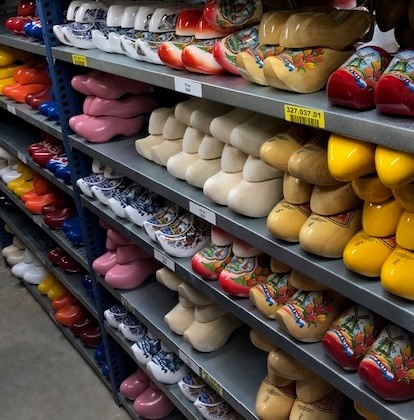 Dutch souvenirs
Following some comments from our customers, we also can supply Dutch souvenirs. This standard we have in our warehouse stock. We are constantly working to introduce new products to our product range in order to offer you a very complete package.
Wooden shoes with logo or photo
We have in our warehouse a large inventory with plain painted wooden clogs in stock. When a birth or anniversary gift quickly wooden clogs with a logo want is for us not a problem at home. After your order we immediately get the desired image on the wooden clogs make before we have them coated with lacquer. When the paint is dry the wooden clogs are sent to you.
We hope you enjoy browsing our website.
If you have questions please feel free to contact us or come along once to view our wooden shoes, and other products.
With us you can get the products in our showroom / warehouse.
You must advance or a call that someone is present.
Our phone number is 0031 (0) 638961072/0031 (0) 416854853
We thank you kindly for visiting our website.
Kind regards,
Betsy & Jan van Erp
De Hollandse Klompenwinkel