What is the correct wooden shoe size?

The fit is very important for a good wooden shoe. You have to be able to walk on the wooden shoes without getting bothered. But how do you know if you have the right clog size? Below you will find some useful tips and methods.
Clogs with socks

-Go stand in the wooden shoes with socks
-If your toes are flat in the front of the wooden shoes (and do not hit the front or side) then you have the right size of wooden shoes.
-It must be possible to wear a pair of thicker socks in the wooden shoes
- Certainly when you start wearing wooden shoe for the first time, thicker socks are nice. Once you get used to walk on wooden shoes, you can also wear them very well without socks.
Finger method

This method used to be used to find the right wooden shoes size:
-Get in the wooden shoe
-Slide the feet forward as far as possible
-If the index finger fits between the heel and the wooden shoe then you know for sure that you have the right size of wooden shoes.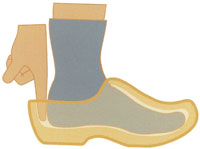 The table

For the above methods, you must fit the wooden shoes in the store. If this is not possible, you can use the method below.
- Measure the length of the bottom of your foot (in cm or inch)
-The size of the wooden shoes you need is the length of your foot + about 1 cm / 0.4 inch
-Find your wooden shoes size in cm / inch in the table below. Here you will find corresponding EU, UK and USA shoe sizes
-Example: your foot is approximately 26 cm / 10.2 inches. Here you add 1 cm / 0.4 inch to: 27 cm / 10.6 inch. The table then indicates that you need shoe size EU 41-42
Let children walk on wooden shoes

Children can walk on children's wooden shoes when they are really firmly on their feet. The children's wooden shoes guarantees optimal use of the foot muscles, the foot is supported correctly.
Children often enjoy walking on wooden shoes.
They can easily get in and out of it.
The wooden shoes give a clattering sound on the paving stones which the children really like.
W
Shoe size conversion table - Wooden shoes
age
cm
 
Europa
USA 
 
UK
this is an
inch
 
 
 
 
 
 
 indication
 
 
children
Man
Woman
Children
Adults
≤ 2
12
4,7
19
3-4
 
 
3
 
2
13
5,1
20-21
4-5
 
 
4
 
2,5
14
5,5
22-23
6
 
 
5-6
 
3
15
5,9
24
7-8
 
 
7
 
3,5
16
6,3
25-26
8-9
 
 
8
 
4
17
6,7
27
9-10
 
 
9-10
 
5
18
7,1
28-29
11
 
 
10-11
 
6
19
7,5
30
12
 
 
11-12
 
7
20
7,9
31-32
13
2
3
12-13
 
8
21
8,3
33
 
3
4
 
1
9
22
8,7
34-35
 
4
5
 
2
10
23
9,1
36
 
5
6
 
3-4
11
24
9,5
37-38
 
6
7
 
4-5
12
25
9,9
39
 
7
8
 
6
 
26
10,2
40
 
7-8
8-9
 
6-7
 
27
10,6
41-42
 
8-9
9-10
 
7-8
 
28
11
43-44
 
10
11
 
9-10
 
29
11,4
45
 
11
12
 
10-11
 
30
11,8
46-47
 
12-13
13-14
 
12-13
 
31
12,2
48
 
14
13
 
13,5
 
32
12,6
49