Posted on
By Betsy van Erp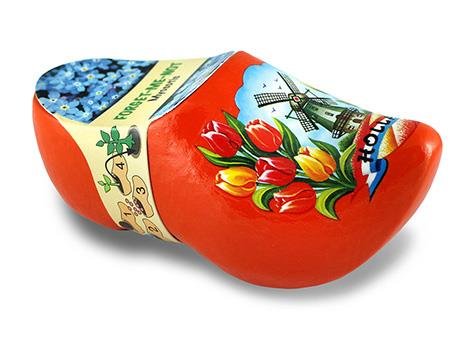 An original Dutch souvenir are the souvenirs. Special are the souvenir clogs with flower seeds. Nice to give gift or for yourself. A gift with a Dutch touch for anyone who loves nature. Grow your own flowers.
Choose the most beautiful souvenir clogs
The souvenir clogs with flower seeds are available in four different designs. All souvenir clogs of this series are beautifully printed with tulips and mills. That is indispensable a Dutch souvenir. Choose from the colors red, orange, blue or white. Each souvenir clog contains a turf cube and flower seeds. These flower seeds are easy to breed. Within a few weeks, beautiful flowers will grow from the souvenir clogs. The Clogs themselves have a length of 10.5 centimeters.
From daisies to sunflowers
In each colored souvenir clog there is another kind of flower seed. Red souvenir clogs with flower seeds contain sunflowers. These are very easy to grow and grow quickly. The sunflower falls due to its large flowers and leaves. Sunflowers are doing very well on the window sill or where plenty of sunlight comes.
The blue souvenir clogs with flower seeds contain daisies. Everyone knows these white flowers with a yellow heart. The ideal location of these flowers is in the sunshine. So choose a place on the window sill or in the conservatory. Margriets do not like such a soaked soil.
The orange souvenir clogs are provided with flower seeds from the Forget me staples. The little blue blooms are very popular. Forget me staples have a special meaning. They represent a symbol of true love and steadfastness. These are very nice to give a gift. Forget me staples are two-year flowers, so you enjoy their beauty for a long time. They need little maintenance and bloom all summer. Forget me staples are not demanding, place them in the shadow or half shadow. These souvenir clogs with flower seeds are the ideal gift for everyone.
Finally, we have the white souvenir clogs with flower seeds. The Delft blue imprint gives it a typical Dutch look. The bunch is provided with flower seeds of the burning love. The striking deep red flowers work well on the window sill and in every garden. Breeding is relatively simple. Sow the flower seeds from May to July in the souvenir club. Planting in October or November. The year after that, the plant is flourishing for the first time. The burning love is a sunbather and attracts beautiful butterflies.
As a special gift or promotional gift
The souvenirs with flower seeds are not only fun for yourself, but also for gift. Think of someone living abroad or living in the Netherlands. Fun for a birthday, anniversary or special occasion. Also, as a promotional gift, these special little ones make it very good. You are proud of your Dutch company, which shows you with a gift from Dutch soil. The Dutch Clog Store has a large assortment of Dutch gifts. That's what makes your heart beat faster.